Read the original article? Click here
2021 Taipei International Computer Exhibition "COMPUTEX TAIPEI Virtual", held by Taiwan External Trade Development Council(TAITRA) and Taipei Computer Association(TCA), has started online on 31 May. Epoch Foundation, founded by 20 Taiwanese leading corporates in 1991, has been introducing global startups in Computex, and this year is no exception. They host an online exhibition called "Garage+ 46 Must-See" inside Computex through the incubator Garage+ to showcase the startups.
inPhocal, selected as one of the "Garage+ 46 Must-See", is a Netherland startup that developed breakthrough laser technology to accelerate the efficiency of the marking industry.
MARKING INDUSTRY'S WASTING PROBLEM
People consume a tremendous amount of beverages around the world every year, and it is normal to see beverage cans and bottles everywhere. Especially in summer, it becomes part of life that when people get thirsty, they just grab a bottle of Coke or Pepsi and drink it. According to the data, there are 2.7 billion cans and bottles produced per day in the world. Although governments have enacted laws to ask people to recycle empty bottles and cans, wasting inkjet printing to mark texts on the bottles is another huge problem that everyone ignores.
Traditionally, in the bottles and cans production line, factories use inkjet printing instead of laser to mark the texts because inkjet is much faster than laser. Current laser marking systems cannot work as quickly as inkjet to mark the same sized surfaces, and the one reason is that laser systems have a short focus. But using inkjet printing comes at a price, Inkjet printing equipment needs constant cleaning and maintenance, furthermore, marking the texts would need a high cost of consumables inks: 160 million liters of ink for inkjet inside production lines yearly, which is eco-unfriendly.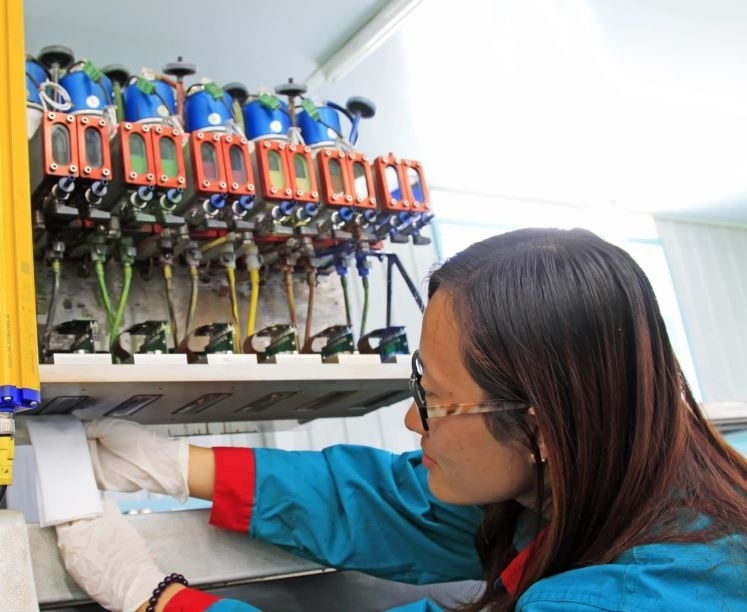 Inkjet needs constant cleaning and maintenance. There are 160 million liters of ink used for inkjet inside production lines yearly.
圖片來源 : inPhocal
CUTTING EDGE LASER SYSTEM TO REPLACE INKJET
For tackling the problem, inPhocal, combined the optical technology developed by Europe leading research institute with inPhocal's unique lens, designed an advanced laser system that can create a long focal length laser beam. Taking a magnifier as an example, some children like to burn leaves with a magnifier, and the leaves would only be burned when the magnifier's focal point aligned with the surface of leaves. Unlike standard laser beams that lose their focus quickly, sometimes within 1mm, this advanced laser system can maintain a focused spot at a distance 400 times longer than conventional systems.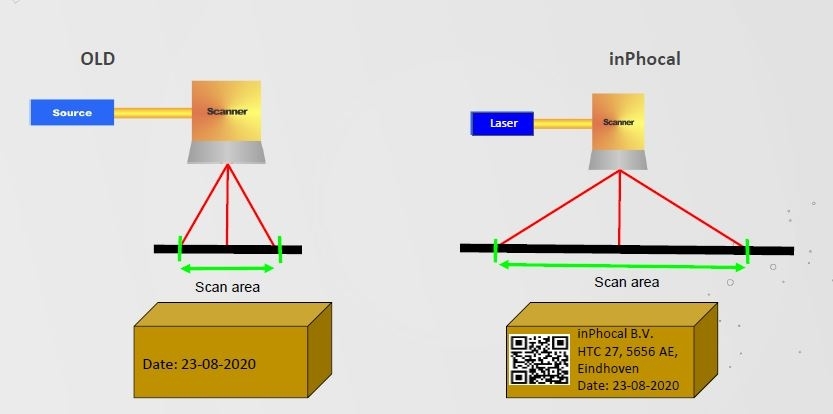 inPhocal's laser system can maintain a focused spot at a distance 400 times longer than conventional systems, and can have a wider operating surface.
圖片來源 : inPhocal
"Our technology was based on a solid research. Our team developed an original idea around the technology and developed a first prototype based on the technology principle. We want to build this technology to cause a revolution in the field of laser-based products as no other technology is capable of going beyond the limits that are set by the current technology," said CTO of inPhocal Dr. Martijn Boerkamp, who is a physicist with 15 years of experience in optical technology and applications.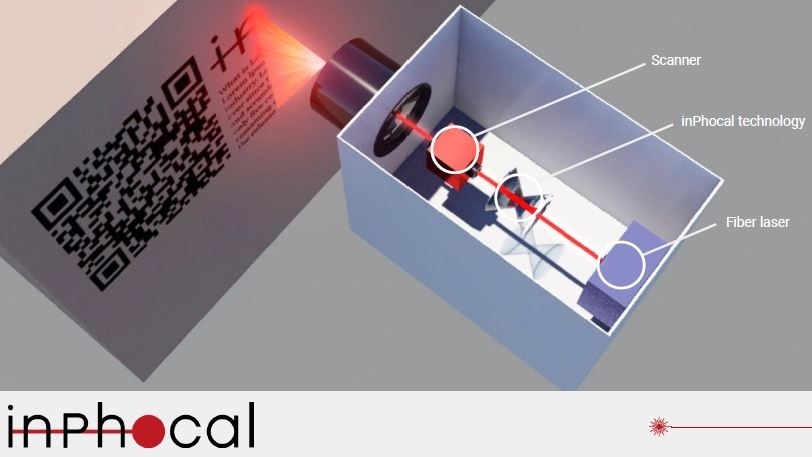 inPhocal's laser system.
圖片來源 : inPhocal
Instead of selling the laser system, inPhocal comes up with a unique business model, which is Laser As A Service (LAAS). Customers have no need to invest a huge amount of money to buy the laser equipment, but they can rent the equipment with monthly fees. "We know that companies that use inkjet in their production lines have monthly costs, related to the use of ink. Our LAAS model will allow companies to maintain their monthly costs the same as with inkjet, but they can switch to a cleaner, more sustainable technology in their production lines," said Martijn Boerkamp.
SEEKING PARTNERS IN TAIWAN
Now inPhocal's laser technology is expanding beyond marking on the bottles. Actually, with the high speed of laser beam and higher precision, inPhocal wants to target every industry that applies lasers, and this is also the reason why they join Garage+ Startup Global Program. Hearing of Taiwan's strong technology industry, inPhocal wants to bridge with big techs like TSMC, Logitech, and Foxconn, etc, through Garage+.
inPhocal already in talks with Logitech as part of the Garage+ to discuss collaboration for the use of the laser technology."We will continue to develop unique technology to revolutionize the complete market that uses lasers. Our next goal is to implement our technology into production lines and to start sales. We are already in talks with potential customers and supply chain partners. For the semiconductor technology we are looking for companies to express their interest, such as TSMC and Foxconn." said Martijn Boerkamp.
MIGHT BE ONE OF SOLUTIONS FOR CHIP STORAGE
Because of strong demands from electronics, digital products, and electric cars this year, there is a chip storage crisis around the globe. Chip manufacturers like TSMC and UMC are currently expanding the production capacity, as they were asked to by governments around the world. inPhocal's laser technology might be able to help chip manufacturers to increase the capacity. "Our laser beam can be focussed to a smaller spot than conventional lasers can, which means We have a more precise cutting technology, so our laser can let manufacturers put more chips on one wafer and cut it properly, which can increase the efficiency of production and help the chip shortage problem," said Martijn Boerkamp.